President Trump recently signed the tax reform bill into law, and it makes major changes to the U.S. tax code for both individuals and corporations. In fact, the bill represents the most significant tax changes in the United States in more than 30 years.
While many deductions are remaining under the new tax law, there are several that didn't survive. Gone for the 2018 tax year are the deductions for:
Casualty and theft losses (except those attributable to a federally declared disaster)
Unreimbursed employee expenses
Tax preparation expenses
Other miscellaneous deductions previously subject to the 2% AGI cap
Moving expenses
Employer-subsidized parking and transportation reimbursement
Republicans were unsuccessful in their efforts to repeal the Affordable Care Act, otherwise known as Obamacare, in 2017. However, the tax reform bill repeals the individual mandate, meaning that people who don't buy health insurance will no longer have to pay a tax penalty.
It's worth noting that this change doesn't go into effect until 2019, so for 2018, the "Obamacare penalty" can still be assessed.
The standard deduction has roughly doubled for all filers, but the valuable personal exemption has been eliminated. For example, a single filer would have been entitled to a $6,500 standard deduction and a $4,150 personal exemption in 2018, for a total of $10,650 in income exclusions. Under the new tax plan, they would just get a $12,000 standard deduction.
It's important to point out that most of the changes to individual taxes made by the bill are temporary — they're set to expire after the 2025 tax year.
Standard Deduction

Tax Brackets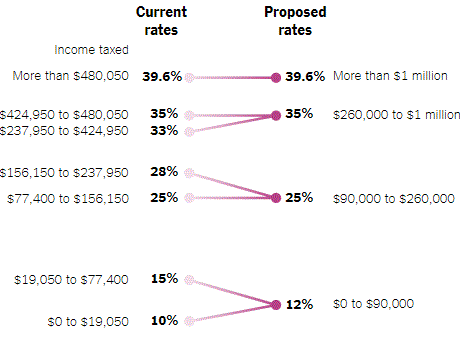 Sources: I.R.S.; House Ways and Means Committee | Proposed deduction amounts are comparable to the current 2017 levels and would increase with inflation in 2018.
< Back

Clergy Financial Resources serves as a resource for clients to help analyze the complexity of clergy tax law, church payroll & HR issues. Our professionals are committed to helping clients stay informed about tax news, developments and trends in various specialty areas.
This article is intended to provide readers with guidance in tax matters. The article does not constitute, and should not be treated as professional advice regarding the use of any particular tax technique. Every effort has been made to assure the accuracy of the information. Clergy Financial Resources and the author do not assume responsibility for any individual's reliance upon the information provided in the article. Readers should independently verify all information before applying it to a particular fact situation, and should independently determine the impact of any particular tax planning technique. If you are seeking legal advice, you are encouraged to consult an attorney.
For more information or if you need additional assistance, please use the contact information below.
Clergy Financial Resources
11214 86th Avenue N.
Maple Grove, MN 55369
Tel: (888) 421-0101 
Fax: (888) 876-5101
Email: clientservices@clergyfinancial.com